https://www.smdailyjournal.com/sports/local/boys-track-athlete-of-the-year-m-a-s-francisco/article_ae73f842-93c9-11e9-9d6b-ffc2842a0053.html
Boys Track Athlete of the Year: M-A's Francisco Sanchez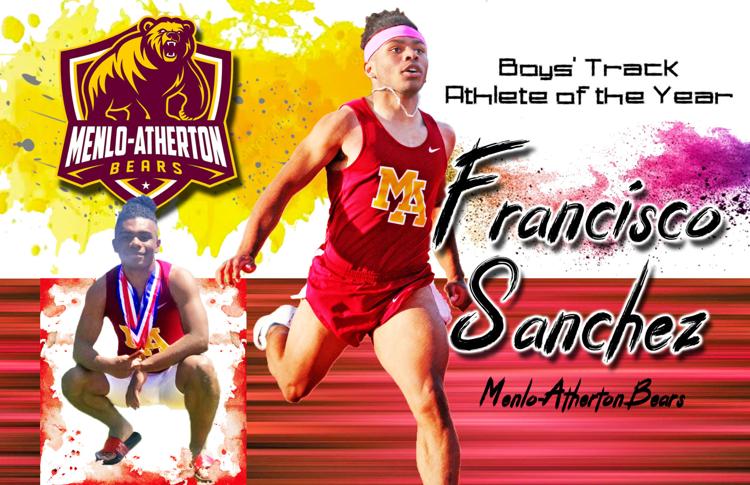 They say change is good. For Menlo-Atherton's Francisco Sanchez, change was great.
Sanchez recently wrapped up his junior season of track in his first year at a new school. After competing for Aragon his freshman and sophomore years, Sanchez's family moved into the Menlo-Atherton school area in the Sequoia Union High School District before the start of his junior season.
"It was a lot closer for my mom and dad's work," Sanchez said.
He also had a full year to prepare for the spring track season as he took a year off from playing football.
"It gave my body some time to recover," said Sanchez, who said he hurt his shoulder and hamstring during his sophomore year of football with the Dons. "(Sitting out the football season last fall) gave me a lot more time to focus on track and to be fully invested mind, body and soul."
No one was more shocked when Sanchez showed up on campus more than M-A head track and field coach Alan Perry. Sanchez has already built a reputation as a sprinter during his time at Aragon and Perry had to do a double take when he saw Sanchez walk into his history class.
"When he walked into class this year, I said, 'You're in the wrong school, buddy,'" Perry said.
Despite all the change, there was one thing that remained constant for Sanchez — his speed, which carried him to the Daily Journal's Boys Track Athlete of the Year.
"It was a pretty easy transition (moving schools)," Perry said.
While his classroom and teachers may have changed, the 100- and 200-yard sprints remained the same and there are few in the Central Coast Section who are better. After winning the Peninsula Athletic League titles in both races this season, Sanchez took a step up in competition at CCS, where he ended up placing third and qualifying for the state meet in the 100.
Along the way, he set a new personal record at both events, but the 100 emerged as his best race. He opened the season with an 11.40 and worked toward his goal of running a sub-11 second race. He won the St. Francis Invitational with an 11.32 and followed that with an 11.37 at the Serra Top 7 meet in March.
Meanwhile, Sanchez was also competing during dual meets with other PAL schools.
The focus on those midweek events wasn't necessarily on winning races or posting certain times. He was, instead, focused on honing his technique, knowing that if he put everything together, the wins and times would come.
"Every race I went into, I was just into executing my race," Sanchez said. "We really wanted to be technically sound."
Everything came together quicker than either Sanchez or M-A sprint coach Deon Hawkins envisioned as Sanchez ran his first race in the 10-second range for a new personal record at the Top 8 meet in Los Gatos in mid-April, finishing fourth against a strong field.
"Coming into the meet, I just knew I had to put it all together. I wanted to execute my race," Sanchez said. "At the end, I ran a 10.93. I was like, 'Whoa.'"
Perry said facing tough competition at the various invitational meets would be nothing but beneficial for Sanchez and his performance at the Top 8 certainly gave Sanchez confidence that the work he was putting in was paying off.
"Being ready to run against … the best competition we're going to have (is important). We want our best athletes to be pushed and be ready for that … so they're used to it," Perry said.
Sanchez went on to post a double-gold performance at the PAL championships, capturing both the 100 and 200 titles with times of 10.93 and 22.29, respectively. At CCS, Sanchez ran an 11.04 to qualify fifth before equaling his PR with a 10.93 in the finals.
Not only was that good for third place, it qualified Sanchez for the state meet. When he got to Buchanan High School in Clovis, site of the 2019 track and field championships, Sanchez was in just-happy-to-be-there mode.
"It was nice icing on the cake to get third place (at CCS)," Sanchez said. " (The state meet) took me back to the Junior Olympics meet feeling. I just enjoyed that (qualifying) race. I was just there to run track and do what I love to do."
Despite all the change in the last year, Sanchez is not shying away from it for his senior season. He'll return to the football field to play with the defending state champion Bears before returning to the track in the spring of 2020.
"There were a lot of things in the beginning of the (track) season that were foreign to me," Sanchez said. "(But) when those big races came up, I did what I needed to do."