https://www.smdailyjournal.com/sports/m-a-holds-off-shp/article_085967ee-f23d-11e9-b0ec-8b889f653dd3.html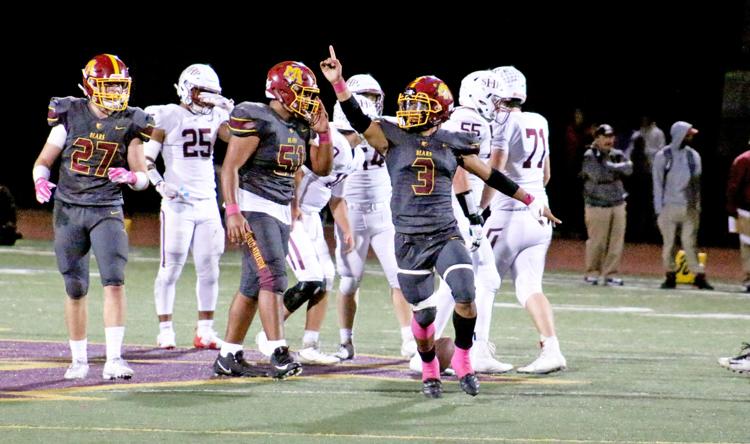 For all the talent Menlo-Atherton has fielded on the gridiron in recent years, there is one thing the team does better than anything else — compete.
The Bears (2-0 PAL Bay, 4-3 overall) certainly did so Friday night under the lights of Coach Parks Field, earning an entertaining 26-20 victory over crosstown rival Sacred Heart Prep (2-1, 5-2).
After M-A took a 13-0 lead into the halftime locker room, Sacred Heart Prep responded with a spirited second half. But try as the Gators might to catch the reigning CIF Division 3-AA state champions, every time they got close, the Bears answered right back.
"We knew going in it was going to be a hard-fought ballgame — rivalries — championship is on the line," M-A head coach Steve Papin said. "Whoever wins this game is in the [lead] for the championship. So, we knew it was going to be tough. And they fought. But luckily our guys played till the end."
M-A showed off its usual athleticism from the receiver corps. Wide outs Troy Franklin and Jalen Moss took their turns trying to one-up each other with acrobatic scoring catches.
But it was the steady ground yards by sophomore Thomas Taufui that set the Bears in motion. The running back has seen a steady increase in his playing time on offense this year, and he responded with his biggest performance to date against SHP, going 127 yards on 17 carries with a touchdown.
"We've know that from the beginning," Papin said. "But we've using him a little bit more on defense. So, we haven't had him on offense as much as we'd like. But in a ballgame like tonight, when our offensive line was just playing, we just rode him all the way into the end zone. He kept wanting the ball and we kept giving it to him."
Sure enough, Taufui's night came down to a clutch defensive play.
After Hurd's touchdown grab midway through the fourth quarter, SHP responded with a quick three-play scoring strike, capped by a stunning 66-yard pass from Teddy Purcell to Wilson Weisel to close the deficit to 26-20. Then the Gators turned up the heat even more when junior John Carter recovered an onside kick at midfield with five minutes to go.
The Gators drove to the M-A 27-yard line, but faced a fourth-and-13 with under a minute to play. Purcell upfield for his favorite target Dante Cacchione, but Taufui manned up in 1-on-1 coverage to break up the pass and end SHP's comeback bid.
"Our minds were racing," Papin said, who was anticipating a variety of trick plays from SHP in that spot. "So, we did a great job of playing man-to man coverage and keeping them short."
It was a thrilling finish considering the first half was all M-A.
After playing the field-position game for most of the opening quarter, M-A broke through from as quick ground strike. Taking over just shy of midfield, the Bears handed to Taufui, who broke through the middle for a 42-yard pickup to the SHP 9-yard line. Three plays later, Taufui hammered through for a 3-yard score, giving M-A a 6-0 lead.
The Bears let their next opportunity slip through their fingers on a red-zone fumble. After taking over at their own 28, the Bears saw the 11th play of the drive turn into disaster. On fourth-and-1, Francisco Sanchez legged for his biggest gainer of the first half, but at the end of a 13-yard pickup, the senior got stripped with SHP junior Cav Williams coming away with the fumble.
The Gators tried to move the ball but got stunted by as critical holding penalty on a third-down pickup that would have moved them past midfield. Instead, SHP was ultimately forced to punt with just over two minutes remaining in the half. M-A wouldn't need nearly that long to again hit pay dirt.
This time, the Bears struck by air as Matt Macleod hit receiver Justin Anderson on a 10-yard button-hook route; but Anderson turned upfield to go the distance, sprinting for a 64-yard scoring catch to give M-A a 13-0 lead.
M-A punctuated the half with a spectacular showing of pressure on Purcell. With the Gators in the hurry-up offense, the Bears earned their first-half shutout by notching back-to-back shutouts to end the half. On second-down from the M-A 35, Purcell scrambled around in the backfield before getting taken down by junior cornerback Jayden Stanley for a 9-yard loss. Then with no time remaining on the clock, Purcell got dropped for a 6-yard loss by senior defensive end Petelo Vatuvei.
In the second half, though, the Gators looked like another team.
"After that first half we realized we could play with them, we realized we could hang with them," Purcell said. "Right when we got that, we jumped it. So, we started throwing it. Coach Grieb mixed it up, did a great job in that second half, credit to him. O-line as well, they stepped it up in the second half. They were keeping me clean and allowing me to do my thing in the pocket."
Purcell went on to complete 13 of 21 passes for 164 yards and two touchdowns, with 137 yards coming in the second half.
The sophomore QB had a lot riding on his shoulder after SHP running back Tevita Moimoi was sidelined midway through the third quarter. The senior still paced his team with 66 rushing yards on 15 carries.
The Gators opened the second half with a 10-play, 74-yard scoring drive to cut the lead to 13-7. But M-A fired right back, with Taufui chunking for runs of 17 and 15 yards to set up Franklin's dynamic 19-yard TD catch, a gorgeous over-the-shoulder haul, to re-up to 19-7.
Another long SHP drive — 14 plays for 60 yards — culminated in a 5-yard scoring run by Tatafu Mahoni. But M-A fired right back, scoring six plays later with Hurd showing some ups by out-leaping a defender in the end zone for a 20-yard scoring grab to make it 26-13.
On SHP's final possession, the Gators got pushed back on consecutive plays, including a sack from senior linebacker Christian Van Stralen and junior defensive tackle Laki Ikavuka.
"I love it," Ikavuka said of chasing down quarterback, and doubled down on the sentiment. "I love it."