https://www.smdailyjournal.com/sports/girls-golfer-of-the-year-m-a-s-nathalie-benrey/article_9557acf0-3833-11ea-8a9e-73adc62d96ed.html
Girls Golfer of the Year: M-A's Nathalie Benrey
By Terry Bernal Daily Journal Staff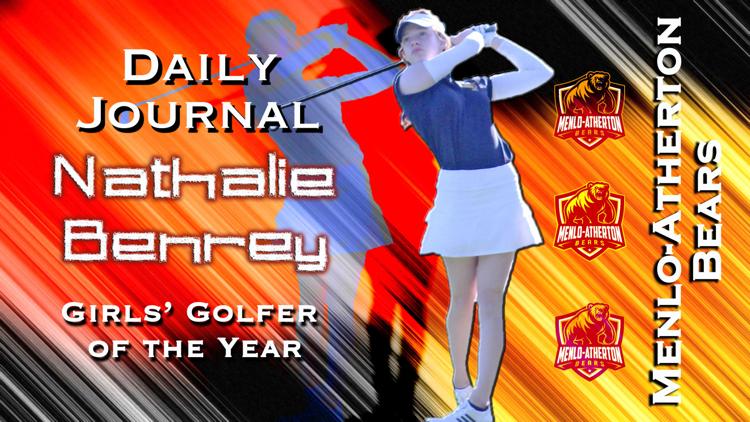 Golf doesn't get anywhere near the fanfare of other high school sports. If it did, the Menlo-Atherton Sixth Man Club would have been raining down chants of — "She a sophomore!" — after Nathalie Benrey's epic win at the Peninsula Athletic League girls' golf championship.
Benrey's clutch par on the 18th hole at Poplar Creek Golf Course propelled her to a 2-over 73 to defeat Carlmont junior Viveka Kurup, the two-time defending PAL champ, by 1 stroke.
There actually was a little fanfare for Benrey, who was immediately greeted by her 10-year-old sister Cleo with a congratulatory hug. Benrey's parents were both on hand as well. Just as happy to see the sophomore join the line of PAL champs was Kurup, a longtime friend of Benrey's going back to their days with U.S. Junior Amateur Golf when Benrey was 10.
"I was very surprised," Benrey said of the Oct. 21 victory. "I didn't think I was going to win. My goal was just to have fun and hang out with Viveka because I don't get to hang out with her as much as I used to."
Now, Benrey and Kurup have something else in common. While Kurup was named the Daily Journal's top girls' golfer in 2018, this season it is Benrey who has earned Daily Journal Girls' Golfer of the Year honors.
Yes, she's a sophomore. But 2019 was her first full varsity season.
While the lifelong golfer arrived at Menlo-Atherton in 2018 poised to make an impact on the local high school links, things didn't go nearly as planned. Benrey played in one match as a freshman, M-A's season opener, and all she earned for her efforts was a disqualification by unwittingly committing a rules violation for using a cellphone during her round.
Then came a season-ending injury that altered the lofty plans of M-A head coach Mark Baker, who saw the team rising to prominence with Benrey and a promising crop of underclassmen. Still, Benrey managed to impress her new coach, finding ways to contribute to the team not only with moral support, but as something of a student coach.
"Even though she wasn't able to play or compete in our matches her freshman year, she was still a very active part of our team," Baker said.
Benrey's offseason "rehab" was quite a ride. She got back to action Jan. 19, 2019. From there, she went on a whirlwind tour through the summer, competing in four different states, including an East Coast swing through Connecticut, New York and New Hampshire.
While playing in New York, she played among a foursome that included Morgan Lee, a standout from Lake Washington High School in Kirkland, Washington. The two struck up a fast friendship, leading to Benrey traveling to Seattle to play in an American Junior Golf Association 4-ball tournament.
Golf overload? Not a chance. Benrey returned to M-A at full strength, raring and ready to continue making golf friendships as she did over the summer.
"I was a little tired but I was really, really excited to play with the team, especially since I wasn't able to do it last year," Benrey said. "So, it was really cool being part of a team."
While Benrey's finishing at the PAL championships certainly topped her season's highlight reel, there was another accomplishment, albeit a more offbeat one, the sophomore cherishes as one of her standout moments on the varsity circuit.
That came playing at Sharon Heights Country Club — the course were she grew up playing — against San Mateo. On the par-4 9th hole, Benrey drove a tee shot onto the green before going on to birdie the hole. Known more for her chipping and putting game, muscling up for a mammoth tee shot made for a standout moment.
"I think that was one of the first times I ever did that," Benrey said. "So, that was really awesome."
It was her chipping and putting talents that finished off her first PAL championship though. Going head-to-head with Kurup, Benrey's final two shots on the 18th at Poplar Creek were as good as it gets. She was looking at a perilous lie after a 7-iron from the fairway landed her on the front lip of the green, leaving her chipping on a short, sharp incline.
Benrey wedged it onto the green like a pro just past the cup, then exhibited nerves of steel — with the PAL championship hers to win or lose — by knocking home the putt.
"To keep her composure at that level of stress was just really impressive for such a young girl," Baker said.
She's got plenty of experience from which to draw though. Benrey began playing golf when she was 7, one year after her father Jeff — who now serves as an assistant coach at M-A — took up the sport. The two have gone on to bond over golf, though it took some adjusting on Benrey's part, as she is a natural left-hander. Like many left-handed golfers, she learned to play right-handed from the outset, and has developed into something of a natural from her unnatural side.
The good news for M-A is Benrey still has two years left to continue to make her mark. To hear Baker rave about her, the best is yet to come for Benrey who, sure, she is one of those kids who is basking in the chance to play a team sport with her friends. But, as Baker describes, she is also part of that elite group of athletes who are passionate about excelling in a given sport.
"Nathalie definitely falls into that category," Baker said. "Where most of the other girls, they have some golf experience … Nathalie falls into a totally different category."