https://www.smdailyjournal.com/sports/magic-win-for-m-a/article_04479a92-5546-11ea-80e4-a7e24c1524c5.html
Magic win for M-A
By Terry Bernal Daily Journal Staff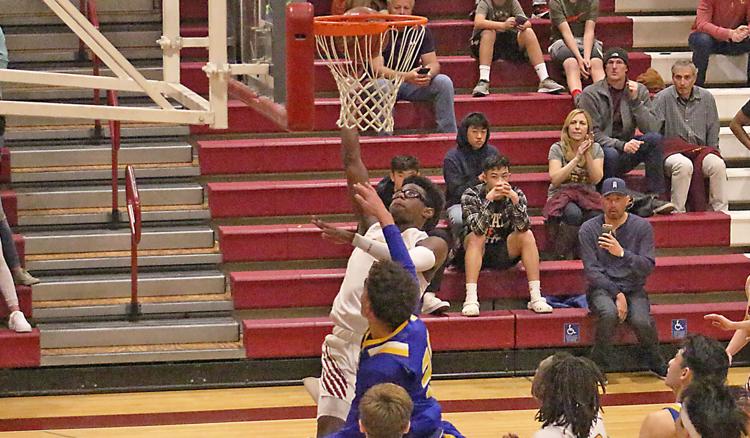 SUNNYVALE — Does the "M" in M-A stand for "magic"?
It sure seemed that way as the M-A Bears rallied for a 45-43 overtime win over Serra in the opening round of the Central Coast Section Open Division boys' basketball playoffs Friday night at Fremont-Sunnyvale.
As the only public school in the CCS Open Division bracket for the second straight year, No. 4-seed Menlo-Atherton (22-3 overall) earned an identical draw as last postseason with the No. 5 Serra Padres. But this year's showdown was, oh, so much more entertaining.
"I just think it's a great win for the program," M-A head coach Mike Molieri said. "I was looking at the board and talking about how we were the sacrificial lamb for the WCAL. I guess that sacrificial lamb is still alive. We just want to play the best, and Serra is one of the best teams in the county. It was a great win for the program."
The Bears looked out of sorts for much of the second half, and trailed 35-26 with just over five minutes remaining in regulation. To that point, M-A had converted just one 3-pointer in the game.
Then the treys started to fly, thanks to the hot hand of guard J.D. Carson. Coming off the bench, the senior erupted for two clutch 3-pointers down the stretch to turn a 7-point deficit into a slight 37-36 Serra lead to finish with 11 points.
"That was a big momentum change," J.D. Carson said. "No one on our team was hitting shots at that point. So, I just had to throw it up."
The senior didn't stop there, though, producing two pivotal assists, including on Nick Tripaldi's dagger 3 with 19 seconds remaining in regulation to tie it 39-39.
M-A was in the half-court set but had a baseline inbound nearly go wayward as the initial pass went toward the half-court line. The high pass was intended for J.D. Carson, and nearly went over his head until he averted disaster by getting airborne like a football receiver to haul it in. Then, as two Serra defenders rushed out to swarm him, he kicked a pass to an open Tripaldi around the perimeter.
And — boom! Tie ballgame.
"We got a good look and thankfully it went in," said Tripaldi, typically a sharpshooter who settled for just 3 points in the contest, all on the dagger to force overtime. "I finally caught one in rhythm."
Serra (17-8) never trailed in the fourth quarter but did momentarily to start the four-minute overtime period. Tripaldi came up with a steal and kicked it out to J.D. Carson, who pounded a bounce-pass into junior center Skyler Thomas for a lay-up to give the Bears a 43-41 advantage.
But the Padres fired back while hunkering down on defense to hold M-A scoreless for a three-minute stretch. Then Padres guard Dimitri Koutsogeorgas put in a 7-foot running jumper to tie it, and senior Ryan Wilson followed with a baller's dribble-drive, hammering past two defenders and getting airborne for an impressive two-handed layup to give Serra a 43-41 lead with 1:08 to go in overtime.
Wilson's bucket lit up the Padres' bench, and the emotion poured over onto the court.
"Excitement, positivity and confidence," Serra head coach Brian Carson said. "We just needed to get one stop and we couldn't, and that's what it came down to."
The Bears dribbled the ball up-court and called a timeout, during which guard Justin Anderson called for the ball. The senior's plan was to take the team on his shoulders, and that he did, taking a give-and-go up top and driving through the middle to bull his way to a game-tying layup, tumbling to the ground in the aftermath.
"So, he looks like a genius," Molieri said of Anderson's execution of the play call.
Anderson then produced the defensive play of the night at the other end. Typically a steal machine, Anderson had just one steal in the game to that point. But he came up with his second one with under 15 seconds to go, then sprinting to the cylinder to give M-A the decisive 45-43 lead.
"They're a great team," Tripaldi said. "Thank God, Justin is the best defender in this area. So, defense led to offense, and that's how we won. He was clutch multiple times. They are a great team. It was fun."
The Padres saw plenty of things go right, especially in the early going. They responded to M-A's 10-2 run in the second quarter — to take a 19-16 lead — by going on an 8-0 to finish the half, sending Serra into the locker room up 24-19.
Then, after a quiet third quarter that saw M-A outscore Serra 7-5, the Padres opened the fourth quarter on a 6-0 charge, sparked by a 3-pointer from Wilson, who finished with a team-high 14 points.
Serra also dominated the boards, outrebounding M-A 36-21 throughout. Serra forward Julius Alcantara led the way with a game-high 12 rebounds. And the Padres also outshot the Bears, converting 44.4% from the floor to that of 37.5% by M-A.
What killed Serra, however, were its 22 turnovers, including five in the fourth quarter, and three more in overtime — culminating in another gut-wrenching loss.
"We've had too many of them this year," Brian Carson said. "I think that's our fifth gut-wrenching loss this year. We had some open looks and they just didn't fall. But it goes deeper than that. It goes back to turnovers and guys not running the right play, guys not knowing where to be, me not calling the right calls. It goes a lot deeper than one shot. But we do like we always do, we dust ourselves off, we get back up and we get back in the fight."
The Padres' season is not over. Consolation play in the CCS Open tournament continues Thursday. And, by virtue of qualifying for the CCS Open Division, both M-A and Serra automatically earn the right to play in the CIF Northern California tournament.
M-A now advances to Wednesday's CCS semifinal round to take on No. 1 Mitty at a place and time to be determined.