By Terry Bernal Daily Journal Staff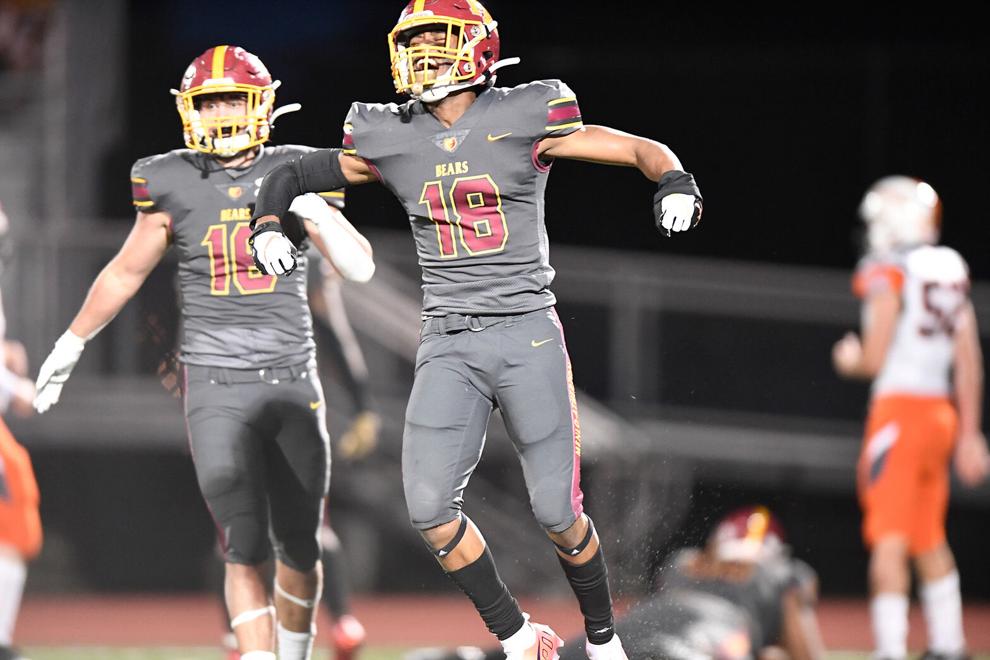 Menlo-Atherton didn't seem to miss Troy Franklin for very long.
The M-A Bears (1-0) may have lost their star receiver to early graduation, but junior quarterback Matt MacLeod found targets early and often en route to a big night Friday at Coach Parks Field in a 36-20 takedown visiting Half Moon Bay (1-1).
MacLeod's nickname, "Matty Ice" — an adopted nickname from Atlanta Falcons quarterback Matt Ryan — is appropriate, since the junior quarterback insists on putting up big pro-like numbers, completing 11 of 14 passes for 311 yards and four touchdowns. And the ball was coming out of his hand with uncanny feel and precision with every throw.
"It felt great," MacLeod said. "It just felt nice and easy. We've been throwing the ball for over a year, and finally able to get out here and show all the work we've been putting in."
Franklin — who graduated in December — would have played this year if the season had been played as scheduled in the fall. But the Oregon commit graduated early, cutting short a prolific M-A career to leave early for his college commitment. He is eligible to play his freshman year at the Pac-12 power in the fall.
"Troy's irreplaceable," MacLeod said. "But [our current receivers], they're studs. They're all ballers too."
M-A junior Jalen Moss emerged as Franklin's heir apparent in the dynamic receiver department. On the second play of the season, Moss glided past the Half Moon Bay secondary and hauled in a lofty spiral from MacLeod for a 55-yard touchdown score.
Moss totaled three catches for 75 yards and two touchdowns, putting the Bears up 14-0 with a minute left in the first quarter, grabbing a bubble pass and turning up field to weave through two clutch blocks for the score.
"We are blessed, but at the same time, we've been working really hard to replace a great talent like that," M-A's first-year head coach Chris Saunders said. "I can't say enough great things about everyone who did a great job stepping up — Jalen Moss, Jeremiah Earby, Matt MacLeod, Johnnie Barbie — the whole receiving crew, they're electric."
Barbie racked up three catches for 80 yards. The junior added to the lead on a wild play, with MacLeod getting chased from the pocket and seeming to be scrambling for his life near the Half Moon Bay sideline only to heave the ball downfield for a 63-yard touchdown connection with Barbie.
Then with 2:48 remaining in the half, Earby got in on the action, getting open downfield for a 60-yard bomb from MacLeod to up the lead to 27-0. Earby would later make the catch of the night when, in the third quarter, he reached an outstretched hand from a double-team cluster and wrestled a sweet one-handed grab for a 43-yard pickup.
Earby finished with two catches for a game-high 103 yards.
"It's top-end speed all the way around, there's no if, ands, and buts about it," Saunders said of his receiving corps. "I can't say enough good things about Matt, our quarterback. Having the arm to get it that far down the field, on the money too."
After a 42-yard field goal by M-A kicker Juan Pulido to end the first half, Half Moon Bay finally got its jumbo-package offense moving in the second.
Senior running back Tristan Hofmann continued to demonstrate he can hang with any defense the Central Coast Section can throw at him. The two-way standout gutted out a monumental workload, carrying 22 times for 135 yards and two touchdowns, while adding three catches for 45 yards and another score. He also scored HMB's only conversion of the night, a 2-point conversion reception with 4:54 to play.
"I've been coaching a long time, a lot of teams just fold," HMB head coach Keith Holden said. "And we didn't fold. … I'm proud of our kids for just playing the whole game, for just sticking it out and not quitting."
It was the touchdown Hofmann didn't score that hurt the Cougars early, though. Trailing 7-0 on their first possession, quarterback Will Moffitt rolled out of the pocket on an option look only to find Hofmann on a screen pass near the sideline. Hofmann rambled 34 yards to reach the end zone, but instead of a tie game, the play was called back on a holding penalty.
Holden said the yellow flag loomed large in the momentum department.
"I think so," he said. "I think, you get an early score, and you feel like you're hanging with the team … I think it makes a big difference."
M-A running back Dwayne Green balanced the Bears' offense with 12 carries for 73 yards, adding a 10-yard scoring run late in the third quarter.
For Saunders, the win was a long time coming. He was hired as M-A's new head coach in March 2020, only to coach his first game over a year later. Needless to say, he was happy to finally get onto the field for his first game at the M-A helm.
"That's an understatement," Saunders said. "It's been a long time coming."