Menlo-Atherton boys soccer still class of the PAL Bay Division
By Terry Bernal Daily Journal Staff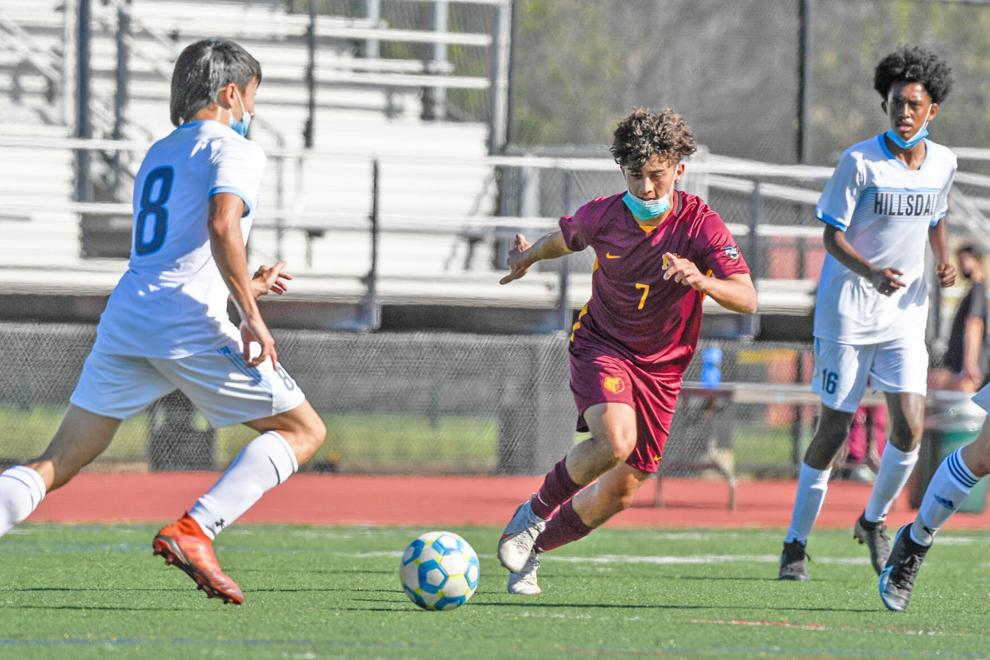 Coming off a PAL Bay Division championship in 2019-20, Menlo-Atherton is picking up right where it left off.
The M-A boys' soccer team (3-0-1 PAL Bay, 3-0-1 overall) is off to an unbeaten start through four matches, the only a blemish being a tie last Friday against Aragon, leaving the two teams tied for the top spot in the Peninsula Athletic League Bay standings.
But the Bears are brewing up something special this season. Fronted by senior forward Will Demirkol, a legitimate NCAA Division I college prospect, and a new supporting cast of four freshmen, M-A is going to be one tough customer through the final month of the belated 2020-21 season.
"The team clicked right away," M-A head coach Leo Krupnik said. "We have a good core of guys that played last year. So, it was easier to get going. I've been really happy with the freshmen that came in. And we've been playing some of the best futbol that I've seen a high school team play."
Monday's 3-1 victory at San Mateo was a prime example of how excellent a soccer club Krupnik is fostering at M-A. The Bears admittedly didn't play their best soccer of the season. A big reason for this is they are somewhat overtaxed, with many on the varsity roster playing three games per week between high school and club.
Demirkol has been going hard for the past month, splitting time with his Santa Clara Sporting club squad. This didn't slow him down Monday as he was dashing all about the San Mateo back rank, showing off his powerful kicking leg, and fronting a crisp passing scheme where timing and tempo are as top notch as anyone will see on the Bay Division pitch this season.
The fourth-year varsity senior's skills were on full display midway through the second half. With M-A already leading 2-1, Demirkol took a pass from freshman Patrick Kunihiro off the right flank and crossed the top of the penalty box, using his speed to draw several defenders toward him.
"That's something I say I'm pretty gifted with, that not many players can do," Demirkol said.
After stretching the top of the zone from post to post, Demirkol tapped a quick pass over to junior Toivo Zahir, who used one step to time Kunihiro flying toward the cage unmarked. Zahir's pass found the freshman in stride, and Kunihiro was rewarded with the first goal of his varsity career.
"I don't think it was me specifically that had to be in there to take that shot," Kunihiro said. "I think it was just a right place, right time kind of thing that I got that goal. I was just lucky I was there at the right time."
M-A may have made it look easy at times, but make no mistake, San Mateo is a quality opponent. Being promoted after winning the PAL Ocean Division title last season, the Bearcats entered play Monday with just one loss on their overall record.
Now, San Mateo (3-2, 4-2) is getting overtaxed in its own right. The team is relying predominantly on its starting 11, not having the liberty of rotating in its second tier as it did with so many easy games last season in the Ocean Division.
"I think the difference is how much impact our subs can make," Bearcats forward Luis Rodriguez said. "Last season, I think we had more freedom with how we use our subs. This season it's more strict."
Rodriguez missed one game this year due to a tender hamstring, sitting out April 13 in San Mateo's 5-1 loss to Aragon. In the three games since his return, Rodriguez has scored three goals, and has totaled four on the season.
The junior tallied San Mateo's only goal Monday, getting a reprieve after being denied in the opening minutes by an inspired performance from M-A senior keeper Sameer Dewan.
Dewan played an inspired half of soccer, getting tested right out of the gate. In the third minute, the Bearcats played the ball in to Rodriguez, who got a good look off the left post from 10 yards out. Rodriguez's shot was online to the opposite post, but Dewan held his ground and kept his feet long enough to time a diving slap save.
So, when Rodriguez got his chance for a reprieve in the 22nd minute, he did not miss it. Junior midfielder Kiryl Biasan played the ball through to the Rodriguez, who got a step on the back rank to break through the middle. As he advanced through the arc, Dewan had no choice but to leave his post and converge on the ball. But once Rodriguez saw daylight, he chipped a shot over the advancing keeper and hit the mark, giving San Mateo a 1-0 lead.
"I knew he was coming out, so I was just putting over or just placing it," Rodriguez said.
M-A spent the remainder of the half demonstrating classic Bay Division ball control. Fronted by Demirkol, the Bears played the ground game effectively. And when a three-touch passing scheme got through, San Mateo committed a costly handball after climbing the back of Yahir Ambriz, who was clearly in the penalty area, resulting in an M-A penalty kick.
Sophomore forward Lucas Guida banged home the PK in the 36th minute to tie it 1-1.
Then, at halftime, the Bears got a wakeup call with a speech from Krupnik.
"A lot of our players, we're doing club and high school," Demirkol said. "So, it's very tiring for our players, and very hard mentally. So, we came into the game pretty strong but not at our full potential. So … after the first half, our coach gave us some motivational talk. It really enlightened us and gave us motivation and that helped me lead the team."
It didn't take long for the Bears to take the lead in the second half. In the 50th minute, Demirkol drew a foul just beyond the top of the arc. With the ensuing free kick, the senior delivered a sharp grounder that no doubt would have burned some worms if not for the synthetic turf of San Mateo's home field, to earn the go-ahead score.
Krupnik said Demirkol is one of the top players in the area. This much is evident after observing the senior for 80 minutes on the pitch.
"He's a great personality, a great worker," Krupnik said. "He's a true leader by example. I've worked out with him offseason when COVID hit and he had nothing to do. We went out, he was always pushing me, like: 'Let's go train! Let's go train!' He's a special player. … He's one of the best players in this region at his age."